New Disney Attractions, Offerings & Announcements Worldwide for 2023
Happy New Year! We ring in a new calendar year with the most comprehensive lineup of what's happening at Disney in 2023. And we're not just sharing what new attractions are on their way, but rather, what are key events will kick off those new offerings. Big press events and milestones are key to when things may be coming your way, and we'll look at all of that. Critical to this is just when all of this is happening, so we'll project when you may want to plan your next Disney vacation, whether it's Walt Disney World, Disneyland, or even beyond. Altogether, we'll look at not only at two dozen new offerings happening in 2023, but what may as well be announced for the future during 2023. Join us as we canvas new Disney Events, Offerings & Announcements Worldwide for 2023.
The podcast is available on Podbean, iTunes, Spotify, and ListenNotes. Please subscribe to the podcast and to this website so you can be notified of upcoming posts and podcasts.
The following is an outline of all the upcoming attractions we talk about on our podcast along with images, videos and link.
Disneyland 100th Anniversary Kickoff at Disneyland
January 27th, 2023
Platinum Infused Decor Throughout the Park
Sleeping Beauty Castle Decorated
The Magic Happens Parade Returns
Mickey & Minnie's Runaway Railway Premieres
Wondrous Journeys at Disneyland
World of Color-One at Disney California Adventure
Announcements Made on Villas of Disneyland Hotel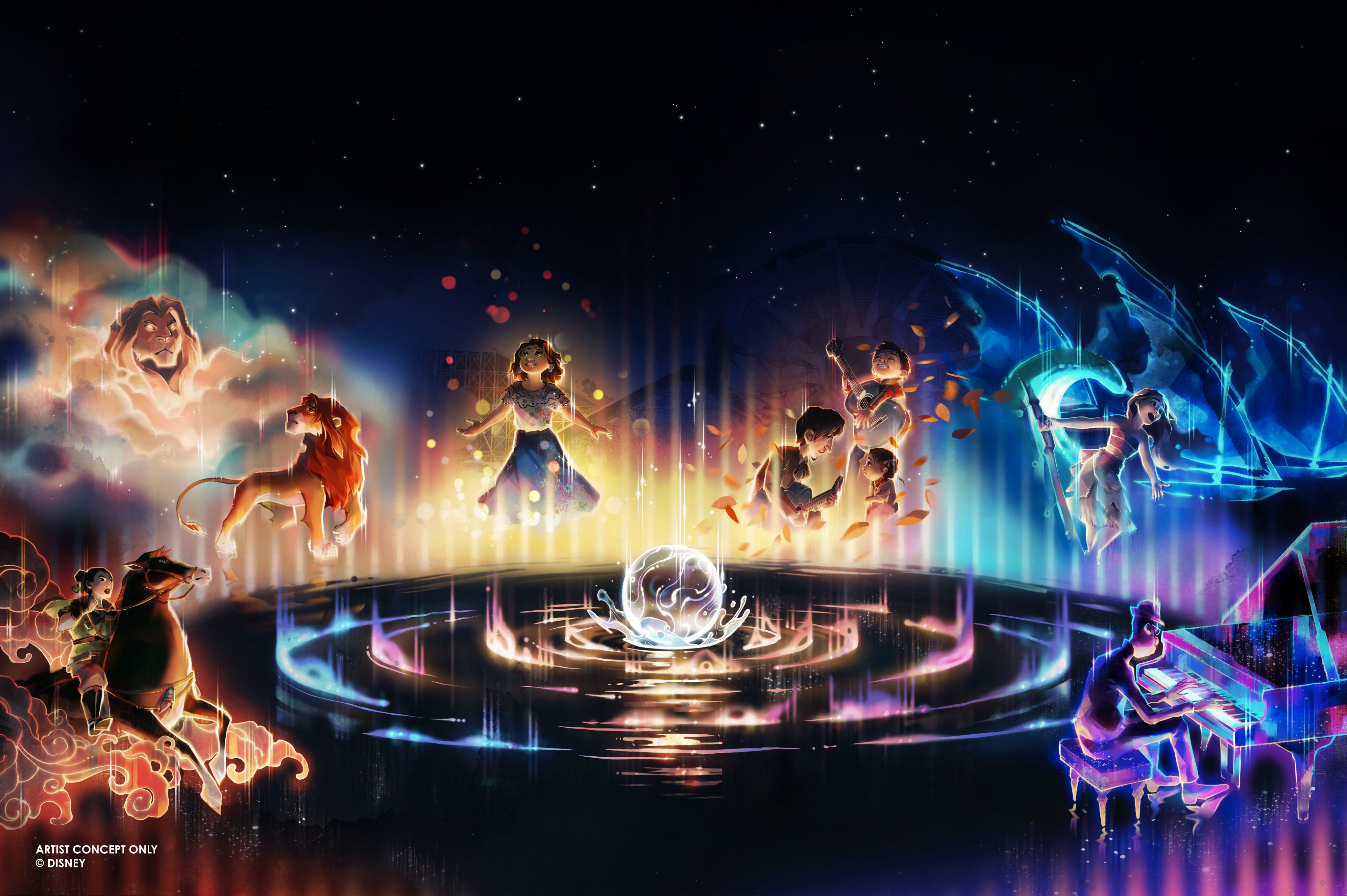 March 8th, 2023
Mickey's Toontown
CenTOONial Park with Fountains and Dreaming Tree
Chip 'n' Dale's GADGET coaster
Goofy's How-To-Play Garden
Donald's Duck Pond
Walt Disney World Spring Press Event
Spring 2023–Probably Around April 1st?
End of Walt Disney World's 50th Anniversary
Tron Lightcycle Run Premieres
Tomorrowland Light & Power Company
Happily Ever After Re-Premieres
Hatbox Ghost at Haunted Mansion?
Return of Enchanted Tales with Belle?
Roundup Rodeo Barbecue Restaurant
D23 at Walt Disney World
September 8-10th, 2023
Possible Announcements For Walt Disney World?
Moana & Zootopia for Disney's Animal Kingdom
Mandolorian & Grogu & Others in Star Wars Launch Bay, Disney's Hollywood Studios
A new restaurant for Disney's Polynesian Resort–Something 'Ama 'Ama Style?
Voyage of the Little Mermaid Re-Birth or Replacement?
Progress on Tiana's Bayou Adventure and a Cajun Boutique Shop/Cafe/Lounge for Briar Patch & Splash Down Photos?
Stitch Replacement?
Something Encanto?
Possible Announcements for Disneyland?
Paint the Night Return?
Remodeling and New Food & Beverage Offering at Critter Country in Disneyland
Other Tiana Offerings?
Also:
Indiana Jones and The Dial of Destiny
What About the Metaverse?
Disney Cruise Line–Disney Treasure, Lighthouse Point & Megaship
Walt Disney World Fall of 2023
October 1st or 16th, 2023?
Summerhouse on the Lake–Disney Springs
World Nature–Journey of Water: Inspired by Moana
Harmonious Replacement–Tied to 100th–"Debuting later next year"
World Showcase: Wondrous China
World Celebration

CommuniCore Outdoor Stage, Indoor Event Center, Plaza & Gardens
Dreamer's Point
Figment Meet 'n' Greet
Other
Adventureland Treehouse at Disneyland–Later 2023
World of Frozen Hong Kong Disneyland–Latter End of 2023
Statue of Walt & Mickey–Latter End of 2023
The Villas of Disneyland Hotel–Later 2023?
We Belong Together: A Pixar Musical Review–Studios Theater, Walt Disney Studios Paris
Disney Village Transformation–Starting in January & Ongoing
Check Out Our Patreon Group!
We thank you for visiting and listening to us. We appreciate your patronage and your friendship. To help make these websites and podcasts possible, there are several easy ways you can help:
In addition to the podcast channel you listen to, please visit DisneyatPlay.com and DisneyatWork.com and subscribe to our website. That way you get notices of new posts and podcasts coming out.
If you like what we have to offer, please visit iTunes and offer us a favorable rating and even a review. This helps notify others of what we have to offer.
If you like videos not just of Walt Disney World but of parks throughout the world, visit J. Jeff Kober on YouTube and subscribe there.
Finally, join the Wayfinder Society. For as little as a dollar a month, this Patreon group not only helps to support this podcast and attending websites, but also gives you access to one of our Disney at Play Interactive Guides.
NOTE! with any Wayfinder membership, you will also get exclusive podcasts looking that checks out other Disney podcasts, social media finds, shows, books and more.
There are four tiers to our society, two of which are available to all who love Disney and are fans. The second two tiers not only celebrate all things Disney, but focus on best-in-business practices from the happiest and most magical places on earth that can be applied to your own organization. All of them offer unique offerings only available here at Disney at Work and Play. For instance, right now subscribers to the three top tiers can experience a deep dive into Pirates of the Caribbean unlike any other.
And now we're happy to announce that first Explorer tier is only $1.00 a month. And with that you not only help to support us but will receive access to one of our Disney at Play Discoveries: Pandora World of Avatar: To see a sneak peek at all that's offered on this truly unique interactive guide, please visit us at the Wayfinder Society. While there you can also get a sneak peek at our Disney at Work Interactive Tour of Disneyland, available to our Navigator and Adventurer levels. We promise you content and experiences you can't get elsewhere. And your patronage goes to help support these podcasts and posts.s
Check out the Wayfinder's Society to see these two new Sneak Peeks!
Ready to Visit the Disney Parks?
Hopefully this podcast has made you realize you need help and support in planning your next trip to Disney. David and Leah with Out the Door Travel know Disney in ways few do and they can make your next trip on land or sea an exciting one–or at least less stressful! Be sure to contact them as you explore your next vacation, whether it is a Disney theme park vacation, a cruise, or an Adventure by Disney. There is no charge to utilize their services, but it will save you enormous time getting all the details right, and with their insight you can be assured you're going to experience the best trip possible. Contact them today!