Dissecting Magic Kingdom Expansion Rumors
Since D23 last summer there have been many rumors about if and what kinds of expansion plans are in the works for Magic Kingdom. At that time WDW Imagineering Portfolio head Chris Beatty and Walt Disney Animation head Jennifer Lee joined Josh D'Amaro on some blue sky dreaming of what might happen in the Magic Kingdom. Since then a big change came with a new CEO to Disney. With that came even more rumors. This last week or so two YouTube bloggers have given their insights to these rumors. This includes Jack DSNY Broadcast and Brayden Holness of Mickey Views These have included adding to the Tiana New Orlean's theme, building out Coco, Encanto and even the Villains Lair. We look at all of these and how they might impact the entire Rivers of America to include Frontierland and Liberty Square. And we look at even an additional rumor or two as well. So join us as we dissect Magic Kingdom expansion rumors.
This podcast as well as all others are brought to you by Performance Journeys, which celebrates its 20th year as a training and development group bringing best in business ideas through keynotes, workshops, seminars and amazing benchmarking programs to organizations in the public, private and non-profit sectors. If you are seeking to improve your customer delivery, to re-engage the morale of your workforce, or to improve the leadership of your organization, we offer not only great solutions tried and tested from our time working intimately to raise excellence in organizations big and small. At Performance Journeys, it's as much about the journey as it is about the performance.
You can find this podcast on iTunes, Spotify, Podbean, and ListenNotes. Please subscribe to the podcast and to this website so you can be notified of upcoming posts and podcast.
The following outline, photos, links and map will be useful as you listen to this podcast:
Frontierland
Here are things that are being considered:
If you could pass over by the spires of Big Thunder Mountain, what could it be?
Disney Imagineers were seen walking around Pecos Bills as if considering making changes.
People have thought that this would be turned into a Tiana's Palace similar to what is happening at the French Market Place.
The conjecture is why not turn that section of Frontierland into a New Orlean's style space.
Disneyland's New Orlean's square sits in a similar space along the river bend.
Still, New Orlean's Square is not a square as much as it is a series of intricately designed side streets going in and out of each other.
Tokyo Disneyland's French Quarter section of Adventureland is more like a series of houses along a given pathway. This is probably a better sense of what this space might look like along the river. It also merges into an Adventureland theme, which would be necessary as you came along the back half toward Caribbean Plaza.
Tiana's Foods suggests a different concept than a Tiana's Palace, and could be a very different restaurant concept. Possibly even one that has lots of different foods.
The Liberty Riverboat complements a French Quarter feel
Tom Sawer's island has played out for decades across from New Orlean's Square in Disneyland. But this book has controversial roots as well, and some project that it could be changed out.
The Country Bear Jamboree is considered a wide range of country-western music. Many of those styles are attributed to Southern states:

Trixie is actually known as The Tampa Temptation.
Liver Lip's home is strangely Miami, and he is known as the Miami Serenader.
The Ballad of Davy Crockett aligns with Crockett's home of Tennessee
Terrence is known as the "Vibrating Wreck from Nashville Tech"
The Sun Bonnets started singing in Public School 821 in Clint, Texas
Teddi Barrra is referred to as "The Jewel of the Dakotas" but was discovered in an ice cream parlor three miles from Gentry, Arkansas
Big Al was from Pocatello, Idaho but moved to the swamp before WDW was built (and three badgers and an alligator have expressed joy that he is now singing for people).

One such projection is that this show would be completely re-done, perhaps in an approach similar to the Vacation Hoedown according to Brayden.
Such a re-build of Frontierland is not as costly as starting from scratch. But the ornateness of New Orleans does require money and detail.
Rather than going the direction of a French Quarter architecture, I would more likely think that the architecture could be more directed toward something akin to Riverside at Port Orleans Resort. That would be an easier transfer of the clapboard style setting.
In truth, either theming would segue better from the Diamond Horseshoe as the symbolic fort/log entrance is a more abrupt transition.
A Tiana restaurant does not need to be tied to Tiana's Palace. It could be more effectively tied to Tiana's foods and it's a co-op that she shares with others (more inclusive).
Meanwhile, Fuente del Oro in Frontierland at Disneyland Paris is being re-themed with a Coco theme. This would make the most sense to how the restaurant is now. And the kinds of props and design aesthetic could be put toward that.
Wouldn't hurt to take the old Golden Oak Outpost and sell beignets from that location as done in the French Quarter at Disneyland.
"The Desert" Big Thunder, Coco & Encanto
Starting from Big Thunder Mountain, Brayden sees Coco, Encanto and Villains Lair moving around the back of the river. Jack sees Villains Lair behind those other two attractions. I subscribe to Brayden's view.
There are a couple of major logistical problems that keep the traffic from moving smoothly past Big Thunder Mountain. See the above map to see how the following are affected.

The river in front is the most obvious obstacle, which suggests that such traffic would need to move behind, and not in front.
The trains for BTM move between the show building and the roundhouse building. The WDW Railroad dissects this, but also takes up the path going between it.
There is a restroom and behind it a Cast Member break room, One could make modifications and move traffic behind there.
Once you get to the West side of BTM, you then need a bridge to cut over the river. The train has a trestle that moves 90 degrees when watercraft (likely the Liberty Belle).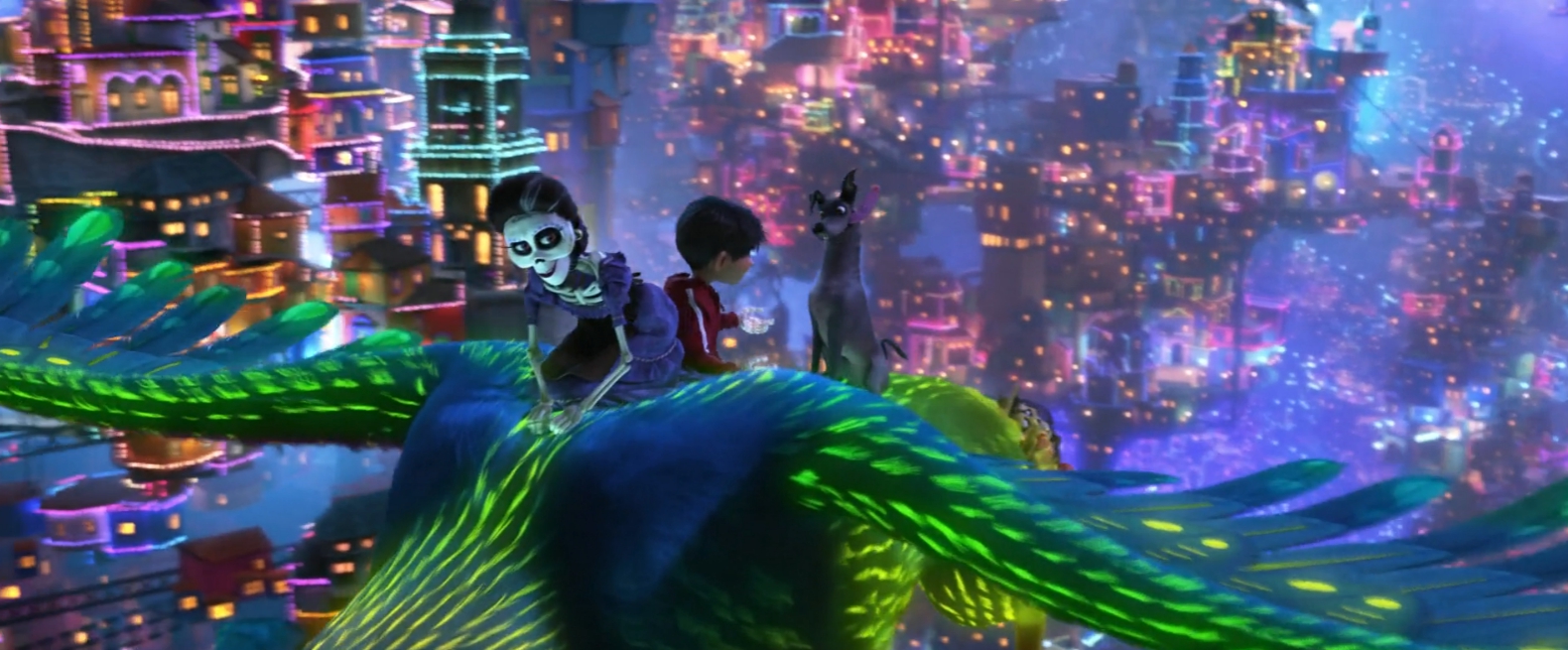 D23 spoke of riding on Alebrijes which suggests some sort of flight style attraction, suggesting anything from an elaborate Peter Pan's Flight to a Flight of Passage style attraction. Still a streetcar might work like in the film.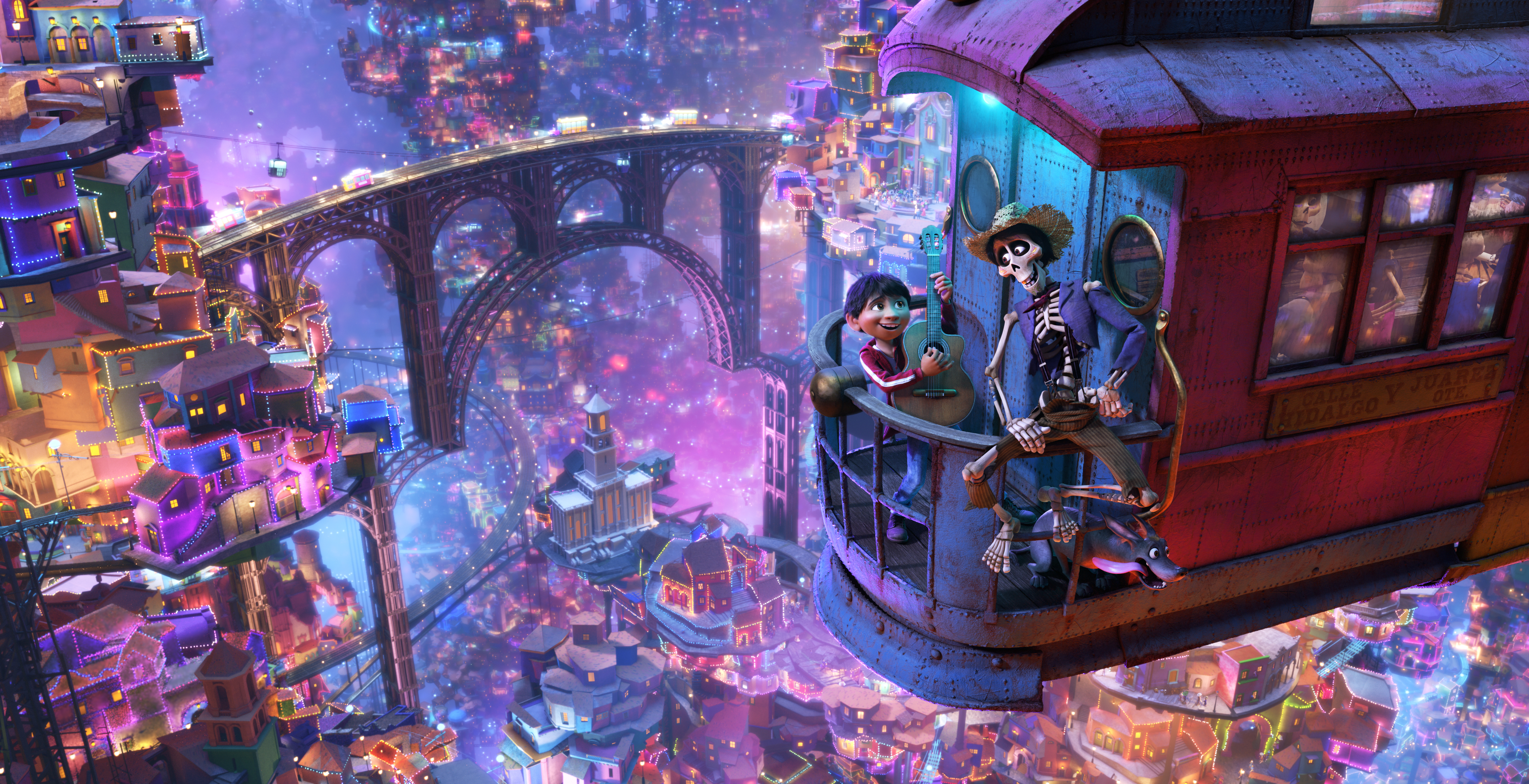 The focus for Encanto was a magical casa Madrigal style attraction. That could be something like a Mystic Manor.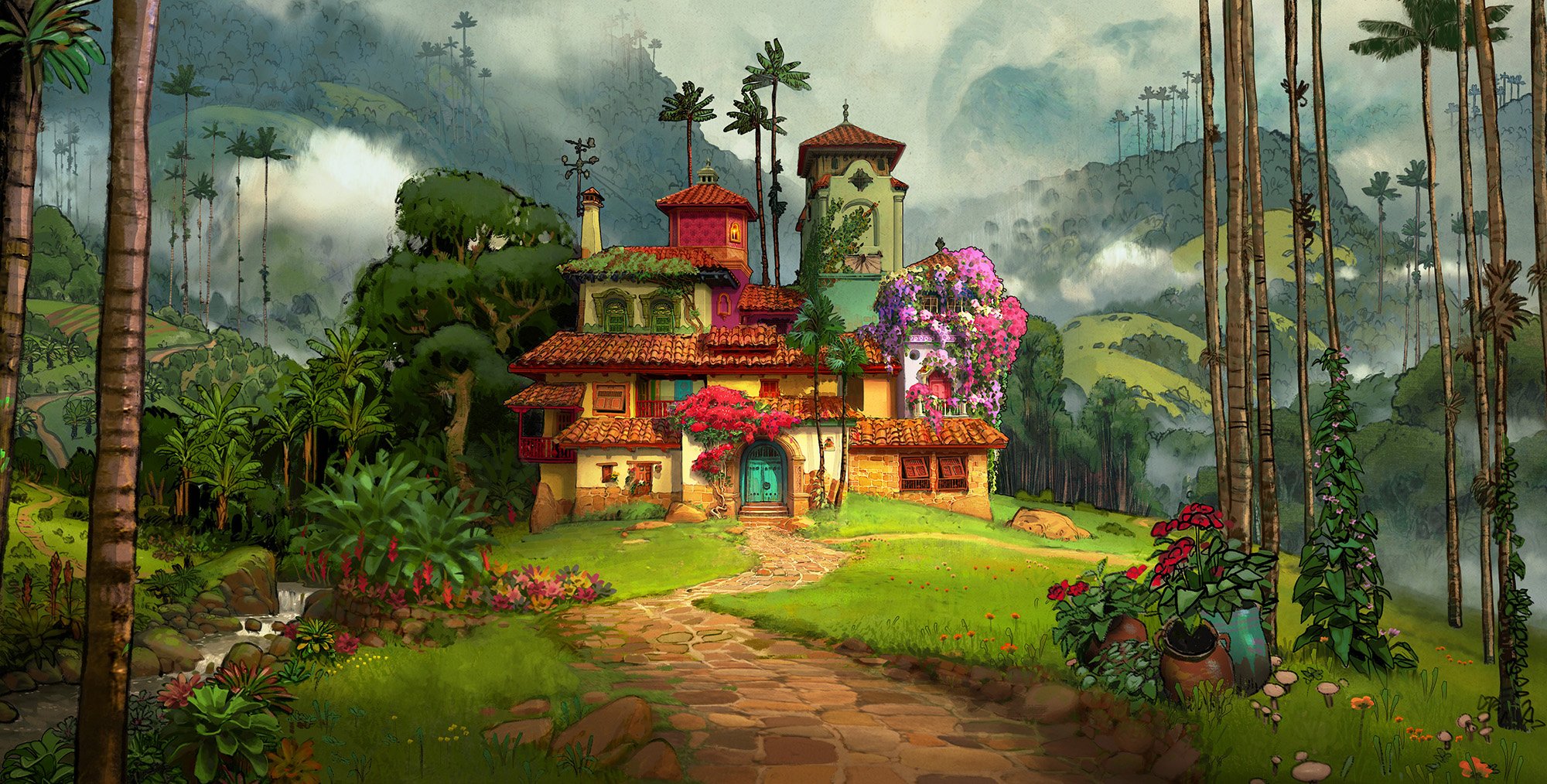 Encanto takes place in a near equitorial location that is anything but desert. It is far more appropriate to an Adventureland theme.
Villains Lair
Re-fitting the queue to the Haunted Mansion allows space to move crowds around that attraction and towards the back half of the park where the railroad is running through.
There have been similarly named concepts over the years, like Villains Mountain, Fire Mountain, and Forbidden Mountain
There is plenty of land before you hit the train tracks for doing an additional land, especially if you have modified the river.
Emphasis is given to Maleficent being on the mountain casting spells. A mountain experience usually suggests some kind of coaster experience. This has been referenced as a Fire Mountain experience.
The layout of this seems reminiscent of the additions that spill outside the railroad tracks at Hong Kong Disneyland with Big Grizzly Mountain, Mystic Manor and Toy Story. More zones or districts than lands.
Other
17 Billion was mentioned in the annual shareholders meeting.
Disney is seeking over 2,000 acres for future development in the next 10 years
This could even include resort development west of Magic Kingdom and North of Disney's Grand Floridian
It also includes land North of the ESPN center south of Osceola Parkway, in Osceola County
"A Boundless Future" is really a bounded future as long as they are not bound by the new commissioners.
Meanwhile, Epic Universe continues to the finish line
Ready to Visit the Disney Parks?
Hopefully this podcast has made you realize you need help and support in planning your next trip to Disney. David and Leah with Out the Door Travel know Disney in ways few do and they can make your next trip on land or sea an exciting one–or at least less stressful! Be sure to contact them as you explore your next vacation, whether it is a Disney theme park vacation, a cruise, or an Adventure by Disney. There is no charge to utilize their services, but it will save you enormous time getting all the details right, and with their insight you can be assured you're going to experience the best trip possible. Contact them today!
Join the Wayfinder Society!
Check out the Wayfinder's Society to see these two new Sneak Peeks!
We bring the best details of Disney both in terms of the magic of the parks as well as the business behind the magic. It's part of what you get when you help support the Wayfinder Society. For as little as a dollar a month, this Patreon group not only helps to support this podcast and attending websites, but also gives you access to one of our Disney at Play Interactive Guides.
NOTE! with any Wayfinder membership, you will also get exclusive podcasts looking that checks out other Disney podcasts, social media finds, shows, books and more.
The podcast is available on Podbean, iTunes, Spotify, and ListenNotes.