Hat Box Ghost & More–Can We Assume Positive Intent For Imagineering & In Life?
Everyone loves to play" arm chair" Imagineer, so when new attractions or the details around those attractions are announced we immediately question, "what's going on? Why are they doing that". But on our "to do" list of "First World Problems" we can sometimes be too quick to not just speculate but downright criticize something long before it opens to the public. Turning to the Disney parks we look at examples of that, but moreover, look at how we do it in our own Imagineered lives. With new attractions and offerings such as Tiana's Bayou Adventure, Moana's Journey of Water and the "out of left field" Smellephants on Parade announcement we can see how this plays out. But no where has it emerged more than with the long-ago announced, but finally showing up at a Haunted Mansion near you Hat Box Ghost, where some question not only where it should go but why it should even be put in the first place. I'll share some personal insights and lessons learned since I can be guilty as any of not assuming positive intent. Together, perhaps we can consider the power of assuming positive intent not just for upcoming attractions at Disney, but most importantly in the day-to-day of our lives.
You can find this podcast on iTunes, Spotify, Podbean, and ListenNotes. Please subscribe to the podcast and to this website so you can be notified of upcoming posts and podcast.
Here are images and videos that support today's podcast:
"it's a small world"
There is a classic example of how so many people assumed anything but positive intent when Disneyland sought to add Disney characters to the attraction. In truth change has always taken place in this attraction, but word of this created not only anger, but threats toward the individual heading it up. In the podcast we discuss what happened in this situation, and how fans judged too quickly a change that most over the last decade have since embraced.
Tiana's Bayou Adventure & Tiana's Palace
In the podcast I discuss my own concerns with Tiana's Bayou Adventure and why it didn't seem to be a right fit for Frontierland at Magic Kingdom, even though it aligned well with New Orlean's Square at Disneyland. A recent trip to see progress on Tiana's Palace made me re-think the changes being made to my beloved French Quarter Restaurant
Curiously, when I returned to Frontierland at Magic Kingdom I started to look for ways in which a 1920s Tiana attraction can fit in the early American south west shown in Frontierland. That answer came in the form of the Country Bear Jamboree, which shows that the founder was noted as having lived from 1848-1928. That actually makes the actual show itself, some time after 1928, which is the same period as Tiana.
In that same trip I saw the wonderful color selection they were making on the entry building to Tiana's.
I can also see why many of the trips and videos about the food, art and culture of New Orleans has been a part of changing hearts and minds about this attraction as it comes together. You can see this in the video below:
Hat Box Ghost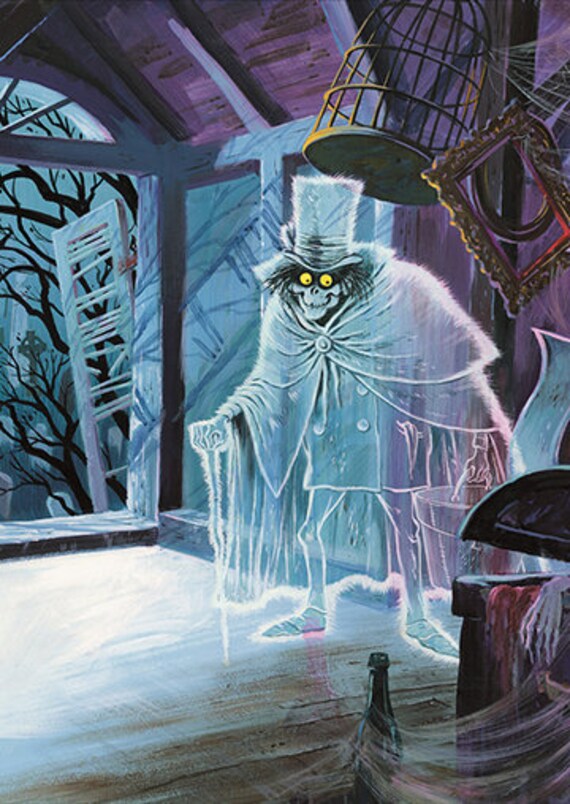 In the podcast we discuss the history of the Hatbox Ghost and how central he was to the original Haunted Mansion. The image below actually is probably the ghost slated to eventually be part of the Haunted Mansion in Magic Kingdom. But so many problems with the Disneyland one resulted in the Magic Kingdom version below never seeing the light of day.
We also discuss how the Hat Box Ghost appearing in the endless hallway actually has a precedent for other apparitions also appearing there:
Zero the Dog in Nightmare Before Christmas at Disneyland
Bride & Groom down the same endless hallway in Disneyland Paris
Other Projects
Disney's Polynesian Village Resort Hotel like Disney's Contemporary Resort Hotel is modeled after the Disneyland Hotel. Both take their cue from lower garden like wings that were only a couple of floors high. But like the Disneyland hotel, both were supposed to have a tower–13 on the Polynesian.
Disney's Polynesian Village Resort had always planned on a tower–much higher than the one you are seeing built.
Moana Way of Water I think will be cute. I just hope people manage their expectations of what this will be. It is not an E-ticket attraction, and that's not a bad thing.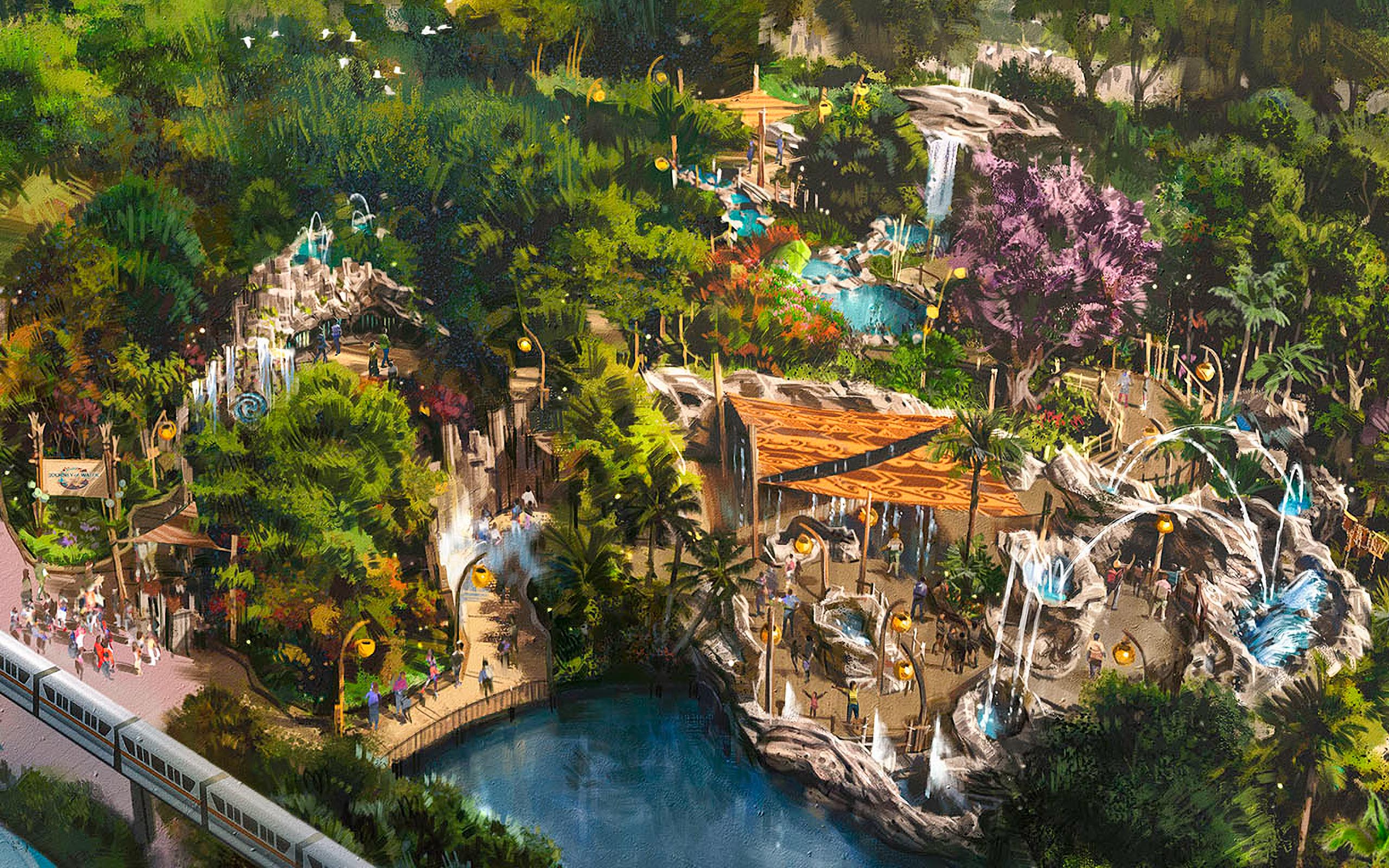 San Fransokyo is also something that could be quite an improvement when completed:
We discuss in the podcast Smellephants on Parade coming to Magic Kingdom. This is going to require much more effort on our part to assume positive intent.
Assuming Positive Intent in Working with Others
Assuming Positive Intent means is an empathic way of patiently working with others. It's believing that everyone is trying to do the very best they can, and that together we're all moving forward the best way possible. If someone lets you down, instead of quickly becoming angry or retaliating, assume their actions were driven by good intentions.
The "small world" example plays out especially as there had not been much word of this coming in advance. But that was largely because people lacked the imagination to see how Imagineers were seeing the change.
Former Pepsi CEO Indra Nooyi is credited with popularizing the phrase "assume positive intent," stating: "Whatever anybody says or does, assume positive intent. You will be amazed at how your whole approach to a person or problem becomes very different. When you assume negative intent, you're angry. If you take away that anger and assume positive intent, you will be amazed. You can say, wait a minute, let me really get behind what they are saying to understand whether they're reacting because they're hurt, upset, confused, or they don't understand what it is I've asked them to do." 
In my own work with organizations, I see this play out in many ways. It especially happens when there are not solid relationships of trust built between people, teams, and organizational levels. Lack of communication from the top breeds speculation. Is it that they don't want their people in the trench to know what's going on? Or that they don't trust them with the information they need?
Souvenirs for You & Your Organization
Consider how the following can help you to address how we might assume positive intent:
What are instances where you are needing to assume more positive intent of others? What are instances when we need others to assume positively of what we're trying to do?
How can we build better relationships up front so people can more easily assume positive intent of our efforts?
How can we be more patient waiting on others when we don't have all of the puzzle pieces?
Where does communication play a role in this? Where does social media help or hinder?
Want More?
This podcast and post is provided by J. Jeff Kober and Performance Journeys, which celebrates its 20th year as a training and development group bringing best in business ideas through books, keynotes, workshops, seminars and online tools to help you take your organization to the next level.
Want a Keynote Speaker? More than just nice stories, I offer proven insight and solutions having worked in the trench.
Need Consulting? I've worked for decades across the public, private and non-profit arena.
Need Support? We offer so many classroom, online, and other resources to help you improve your customer delivery,
Contact us today, and let us help you on your performance journey!