60 Billion Disney Parks Investment & More! What It Means
Destination D23 had considerable publicity around that, with social media agents blogging, vlogging tweeting and podcasting the highlights to fans the world over–but mostly at Walt Disney World. We'll cover some additional details and aftermath of that. We'll consider some additional thoughts on what was announced there. But almost under the radar this week was an entirely different presentation targeted not to fans but to investors. This includes a promise to invest some 60 billion dollars in Disney Parks worldwide over the next ten years. We'll look at the key messages of this presentation. We'll discuss how effective–or not–the message was to Wall Street. Finally, my new book is completed and is in the process of being published. I'll share the book cover and offer an overview. From 100 Disney years to 60 billion in Disney Parks investments–we have a lot to cover!
How Many Billions?
Today, Disney has the largest physical footprint of any global theme park travel business, with 12 parks across six sites around the world.
Disney Parks has seen growth following previous periods of significant investment, which included the additions of Cars Land at Disney California Adventure, Star Wars Galaxy's Edge at Disneyland Resort and Disney's Hollywood Studios at Walt Disney World, Avengers Campus at Disney California Adventure and Walt Disney Studios Park in Paris, and more.
"We stand alone when it comes to scale," said D'Amaro. "And while our scale is impressive, we have no shortage of space or regions of the world in which to tell new stories…We have a wealth of untapped stories to bring to life across our business," said D'Amaro. "Frozen, one of the most successful and popular animated franchises of all time, could have a presence at the Disneyland Resort. Wakanda has yet to be brought to life. The world of Coco is just waiting to be explored. There's a lot of storytelling opportunity."
In fact, Disney Parks has over 1,000 acres of land for possible future development to expand theme park space across its existing sites – the equivalent of about seven new Disneyland Parks.
Disney Parks welcome approximately 100 million guests each year.
Yet there is still enormous untapped potential for reaching more consumers. According to Disney's internal research, there is an addressable market of more than 700 million people with high Disney affinity it has yet to reach with its Parks. In fact, for every one guest who visits a Disney Park, there are more than ten people with Disney affinity who do not visit the Parks.
Disney Cruise Line visits 94 ports in 40 countries. Disney will nearly double the worldwide capacity of its cruise line, adding two ships in fiscal year 2025 and another in 2026.
Disney made a compelling case about the possibilities for Disney Parks and Products world-wide in the long-term. And Wall Street didn't care.
March 20, 2021 Disney shares were at an all time high of North of $197.
That successful event came because investors saw short term successes in a very difficult period of Covid.
Currently it is trading in the low $80s.
Investors don't see parks as a short term opportunity like they did with promises of new Disney+ programming.
Unless investors see Disney as a long-term investment, it is difficult to get those shareholders to follow along.
It doesn't help that Disney seems to make "broken pie" promises–Easily made, easily broken
What Disney needs to do is build.
Further Destination 23 Reflections
Here are some messages and insights others shared about the Destination 23 announcements:
Disneyland Got No Love. In truth, Disneyland is getting a lot of love. Much of it was either not discussed or was diminished by other announcements, but Disneyland still has major stuff happening:
Tiana's Bayou Adventure
Adventureland Treehouse
Haunted Mansion Improvements
New Star Wars Meet 'n' Greets
Star Tours additions
Meet 'n' Greet with Asha
Downtown Disney Additions
New DVC Villas at the Disneyland Hotel
New Remodeling of Paradise Pier into Pixar Hotel
Avengers Campus E-Ticket Attraction: The biggest new attraction from the ground up was the experience new attraction going into Avengers Campus. This is possibly on the scale of Rise of the Resistance.
Ride Vehicle for Avengers Campus Attraction. Speaking of this attraction, some have conjectured that it would be like the new Peter Pan attraction vehicle in Disney Fantasy Springs. Note the walls on both sides and the three rows with two passengers per.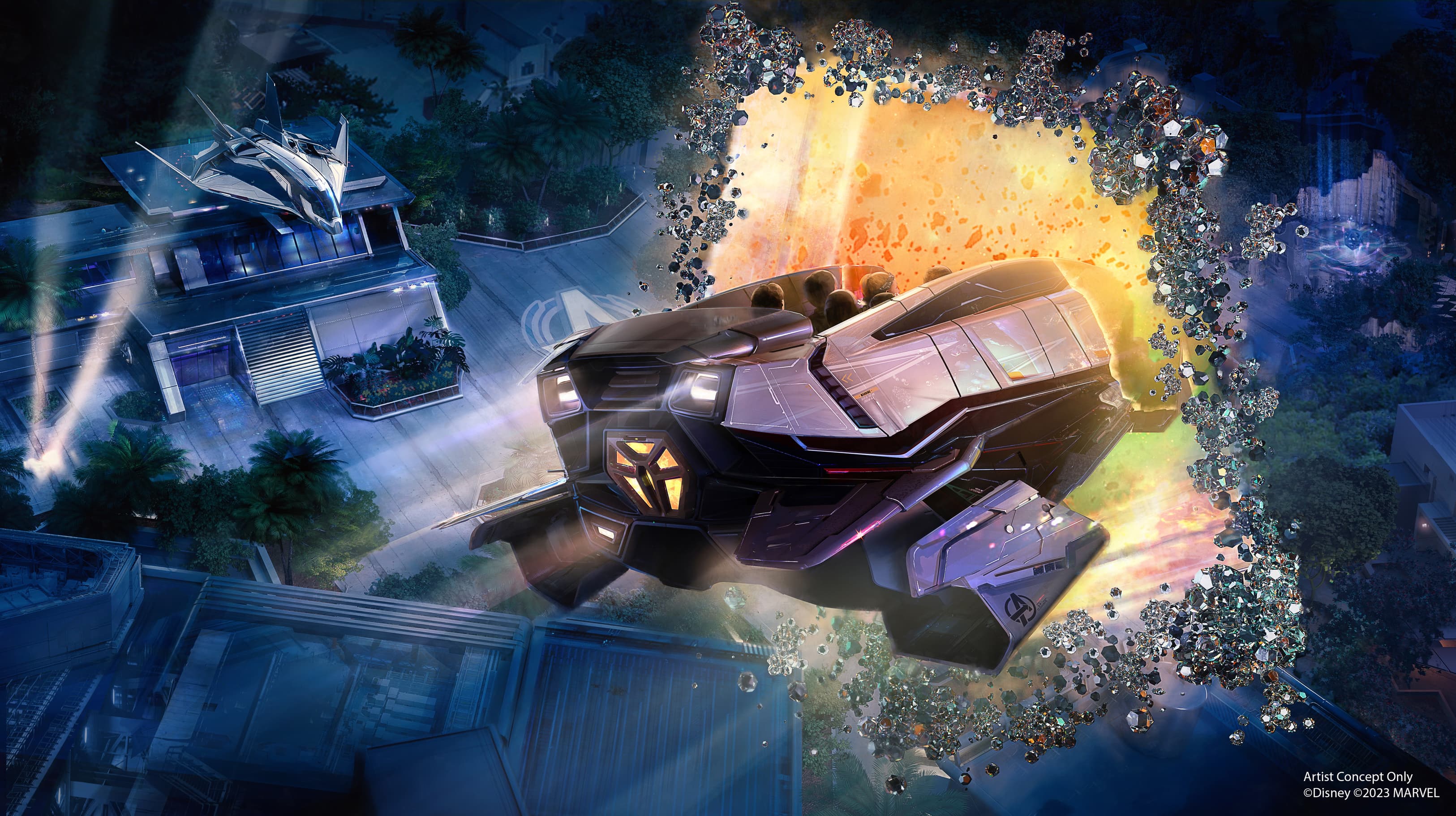 Disney Adventure. Everyone expects the new Disney Cruise Ship, The Adventure, to have gambling. Gambling requires smoking. Singaporeans smoke far less than those in the U.S. The two go hand in hand. You can visit ports of call for gambling, just as you can at Atlantis in Bahamas. Macau is the Las Vegas of Casinos in Asia. Countries like Vietnam and the Philippines have casinos. Marina Bay Sands in Singapore has a Casino. What Disney Adventure doesn't have in its original plans are kids clubs.
World Celebration. World Celebration opening in December does not mean that CommuniCore will open as well. The exterior might be done, but probably unlikely the interior.
Pirate Lounge Location. I conjectured that it might be Tortuga Tavern. A better idea–possibly–came in the context of the former Pirates League building. It could also take in the plaza that is on the back side of it, that Guests pass by when queueing for Pirates of the Caribbean.
Disney's Animal Kingdom Expansion. Is there still a Coco element in there? What is that restaurant going to serve? Why is it no one talks about the carousel? Why can't people use their imaginations as to why Encanto and Indy would work in a park that addresses animals?
By the way, I'll be visiting Moana next week, so be sure to check out our view.
Available Soon!
My newest book is on the way to the publisher and I'm excited to share the cover of the book:
The text on the back cover shares the following:
Look for more insights next week!
Plan Your Next Disney Vacation!
Hopefully this podcast has made you realize you need help and support in planning your next trip to Disney. David and Leah with Zanolla Travel know Disney in ways few do and they can make your next trip on land or sea an exciting one–or at least less stressful! Be sure to contact them as you explore your next vacation, whether it is a Disney theme park vacation, a cruise, or an Adventure by Disney. There is no charge to utilize their services, but it will save you enormous time getting all the details right, and with their insight you can be assured you're going to experience the best trip possible. Contact them today!
David & Leah Zanolla