Disney Treasure Cruise Line Announcements
Details
Disney Cruise Line announced the inaugural sailings for the Disney Treasure, as well as many of the details about their newest ship. Joining me is David Zanolla of Zanolla Travel, who will help me to study the details of this announcement, and how it compares to the more recent Disney Wish. We will look at the itineraries, the overall design, new dining and lounge concepts, entertainment, staterooms and so much more. The Disney Treasure is unique and there will be some very cool additions to this ship. Moreover, there is more to be announced, and we'll do a little conjecturing on what remains to be added. Join us as we share Disney Treasure Cruise Line Announcements.
You can find this podcast on iTunes, Spotify, Podbean, and ListenNotes. Please subscribe to the podcast and to this website so you can be notified of upcoming posts and podcast.
Be sure to subscribe to this podcast and give us a rating, review, or referral to others. Also check out Disney Insights where we offer key points, photos, videos, links and more. While there, please subscribe to Disney Insights where you can be notified of upcoming podcasts. Also check out our Facebook page, Disney Insights and our YouTube page of the same name.
The following are images and videos and links associated with this podcast:
Sailings
The Disney Treasure's Maiden Voyage is official scheduled for December 21, 2024 on a special 7-night maiden Eastern Caribbean voyage sailing over Christmas. The Disney Treasure will join the Disney Fantasy and Disney Wish at Port Canaveral. The Disney Fantasy will shift departure dates allowing the Disney Treasure to over Saturday 7-night Caribbean sailings.
Starting in December 2024, the Disney Treasure will sail its inaugural season of Caribbean cruises, from its new home port of Port Canaveral, Florida. Bookings open to the general public on September 20, 2023.
If you're currently a Pearl, Platinum, Gold or Silver Castaway Club Member, an eligible Golden Oak Club Member, Disney Vacation Club Member or an Adventure Insider with Adventures by Disney, be among the first to book our new Disney Treasure inaugural cruises before they go on sale to the general public on September 20, 2023. The early tiered booking opportunities are as follows:
Tuesday, September 12, 2023 – Pearl Castaway Club Members
Wednesday, September 13, 2023 – Platinum Castaway Club Members & Golden Oak Club Members
Monday, September 18, 2023 – Gold Castaway Club Members, Disney Vacation Club Members and Adventure Insiders
Tuesday, September 19, 2023 – Silver Castaway Club Members
Overall Ship
Treasure Hook and Peter Pan–Rapunzel and Pascal on Disney Wish
The structure of the ship remains the same. What is varied is the look and feel. That's both good and bad.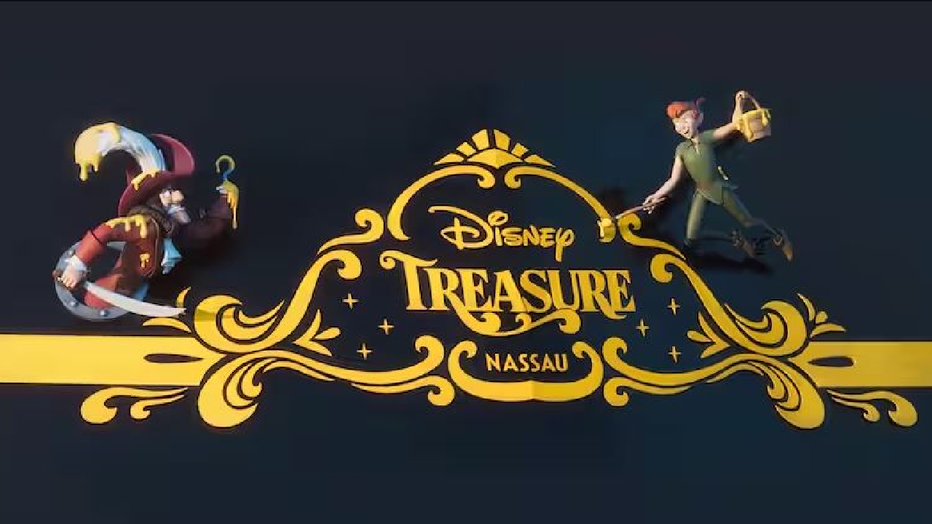 Jasmine & Aladdin flying on a carpet is the main statue with the Genie's lamp sitting at the pedestal.
Food & Beverage
1923
Worlds of Marvel–with Spiderman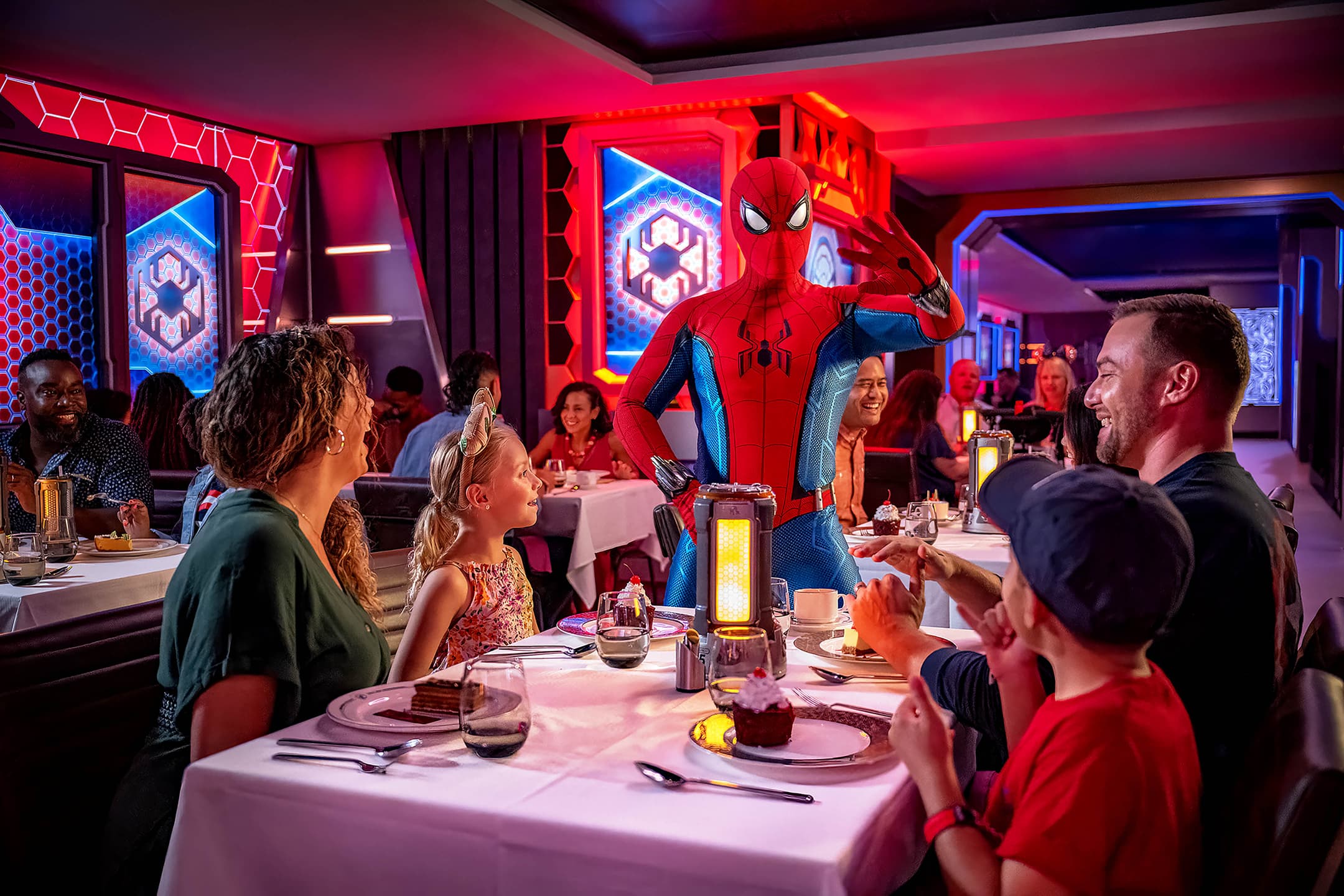 Plaza de Coco–Formerly Frozen
Jumbeaux's Sweets
Joyful Sweets on Disney Wish
Also: Heihei Cafe & Jade Cricket Cafe
Staying: Mickey & Friends Festival of Foods & Marceline Market
Clubs and Lounges
Skipper Society–Formerly Bayou
Periscope Pub–Formerly Keg & Compass
Yet to Be Determined: Hyperspace Lounge Replacement
Entertainment
Sarabi
AquaMouse: Curse of the Golden Egg
Pirate's Rockin' Parlay Party.
Wonderland and Neverland Cinema Theaters
Beauty and the Beast
Disney Seas the Adventure
Third Show: Yet to be Revealed
State Rooms & Suites
1,256 Staterooms Themed and inspired by Aladdin, Encanto, Pocahontas and Up
Concierge Rooms and Royal Suites inspired by The Lion King, The Jungle Book and Aladdin. Royal Suites named after Rajah and Baheera–faithful feline companions of daring Disney characters.
Tower suites have an Epcot themed Tomorrow look and feel
Want to Sail on the Treasure?
Hopefully this podcast has made you realize you need help and support in planning your next trip to Disney. David and Leah with Zanolla Travel know Disney in ways few do and they can make your next trip on land or sea an exciting one–or at least less stressful! Be sure to contact them as you explore your next vacation, whether it is a Disney theme park vacation, a cruise, or an Adventure by Disney. There is no charge to utilize their services, but it will save you enormous time getting all the details right, and with their insight you can be assured you're going to experience the best trip possible. Contact them today!
David & Leah Zanolla
Want to Create Excellence in Your Organization?
This podcast and post is provided by J. Jeff Kober and Performance Journeys, which celebrates its 20th year as a training and development group bringing best in business ideas through books, keynotes, workshops, seminars and online tools to help you take your organization to the next level.
Want a Keynote Speaker? More than just nice stories, I offer proven insight and solutions having worked in the trench.
Need Consulting? I've worked for decades across the public, private and non-profit arena.
Need Support? We offer so many classroom, online, and other resources to help you improve your customer service delivery, leadership development and employee engagement.
Contact us today, and let us help you on your Performance Journey!
More Disney Insights can be found below!
Disney Insights YouTube Page–Check it out and subscribe
DisneyInsights.com--So many resources at our home site. Be sure to subscribe to receive notice of upcoming podcasts.
Disney Insights Facebook Page–Come join and interact in conversation with others.
The Wayfinder Society–Disney Insights Patreon Page–More Disney Insights to interact with, while supporting the podcast.